ComputerScience.org is an advertising-supported site. Featured or trusted partner programs and all school search, finder, or match results are for schools that compensate us. This compensation does not influence our school rankings, resource guides, or other editorially-independent information published on this site.
Are you ready to discover your college program?
Credit: Maskot / Maskot / Getty Image
As more consumers rely on the internet, companies increasingly rely on web developers to build attractive, functional, and easy-to-use websites. The U.S. Bureau of Labor Statistics projects 8% growth in employment of web developers between 2019 and 2029, much faster than the growth projection for all occupations.
Web development degrees lead to exciting careers with benefits like the flexibility to work from home as a freelancer. Those interested in more traditional employment can also find full-time, on-site opportunities at digital agencies and IT departments across multiple industries. Check out this guide to get an in-depth look at a day in the life of a web developer.
What Is a Web Developer?
A web developer is a programming professional who turns web designs into operational sites by writing lines of code. The field emerged somewhat recently: In 1993, Tim Berners-Lee published the first version of HTML. CSS, another core language of the internet, was first supported in 1996 by Microsoft's Internet Explorer 3.
Other programming languages popular today include PHP, Python, Java, SQL, and Ruby. A career in web development typically requires proficiencies in several of these languages. Though some web developers are self-taught, many choose to complete a bootcamp program or bachelor's degree.
Visit the link below to learn more about the web development field.
What a Web Developer Does
A web developer's primary goal: create functional, user-friendly websites that meet client specifications and the needs of end-users. Web developers' work makes information, services, and products accessible globally.
Web developers can work as independent contractors or as traditional full-time employees. As freelancers, web developers collaborate with clients individually. As full-time employees, web developers typically work on a team, regularly interacting with other developers, web designers, IT professionals, and management.
Web developers can work as independent contractors or as traditional full-time employees.
Responsibilities for web developers vary according to their specialization (front-end, back-end, or full-stack) and current project. Tasks may include building a new website, fixing errors and bugs in existing sites, and looking for innovative ways to enhance the user experience.
The ideal web development professional possesses strong communication and customer service skills, a sense of creativity, and a knack for technical subjects. Experienced web developers may advance to become senior web developers or project managers within their organization.
Explore ten common and nonstandard web developer duties in the lists below.
Main Duties of Web Developers
Meet with Clients/Management: Communication is a crucial skill in this field. Web developers speak directly with clients about their site vision and user needs, or obtain this key information from management.
Write Code: Web developers spend most of their time writing code for websites in languages like HTML, CSS, and Java. Depending on their specialization, web developers may focus on front-end code, back-end code, or both.
Create and Test Applications: In addition to building a site's structure, web developers must ensure the site functions accurately and responsively. Web developers create custom controls, dynamic pages, navigation menus, and mobile applications. Developers test elements of the user interface to identify and correct bugs.
Coordinate with Other Team Members: Web developers often coordinate with other professionals to bring a website design to fruition on time and within budget. Project managers, business analysts, user experience designers, and quality assurance engineers all collaborate with web developers.
Monitoring Site Performance and Traffic: In addition to building new sites and applications, web developers can also serve as webmasters for their employer's internal websites. Webmasters work to update and maintain site functionality. This involves monitoring errors and metrics, resolving long load times, and making sure applications work properly.
Nonstandard Duties for Web Developers
Create Graphic Designs: In some contexts, a web developer's job duties can overlap with other creative fields. Front-end web developers may use Adobe Photoshop, Illustrator, or similar applications to establish the desired look and feel of a site before they begin coding. Small businesses may rely on web developers to create graphics for their sites.
Perform Search Engine Optimization: Employers often rely on their web developers to help their websites reach the top of search engine pages. Key SEO web development tasks include ensuring webpages avoid duplicate content, contain efficient code layout, and are mobile-friendly. Developers may also integrate SEO keywords into website content.
Work Outside their Specialization: Web developers typically specialize in either front-end, customer-facing development or back-end, server-side development. Each specialization requires its own set of skills, so a front-end developer rarely works on back-end projects. Exceptions occur for developers trained in full-stack development, which covers both front- and back-end tasks.
Generate Online Content: Occasionally, clients ask web developers to generate content for the sites they build and maintain. This can include uploading blog posts, sourcing stock images, creating infographics, and editing video content for publication.
Aids in Marketing Efforts: Web developers who work for a digital agency specializing in web design may engage in direct marketing efforts with potential clients. This can include responding to emails and phone call inquiries. Web developers also provide marketing support for external clients by updating site pages and applications to reflect current sales campaigns.
Top Online Programs
Explore programs of your interests with the high-quality standards and flexibility you need to take your career to the next level.
Typical Day of a Web Developer
A day in the life of a web developer varies depending on whether they work as a freelancer or as a full-time employee.
A freelance web developer typically begins the day by reviewing their schedule and upcoming deadlines. These developers spend most of their day coding or debugging a site. Freelance developers must regularly discuss progress with their clients, handle administrative tasks like finances, and consistently hunt for new work opportunities.
Web developers employed full time at an agency or other company typically start their day with a development team meeting. During this meeting, each professional discusses their previous day's work and their tasks for the upcoming week. Aside from meetings, these developers spend the day coding for their current project.
Exact coding responsibilities vary between front- and back-end developers, but all code is typically uploaded to a central testing server and/or GitHub for final review before approval and publication. Throughout the day, web developers may confer with management or coworkers to discuss issues and brainstorm solutions. Web developers must remain agile and prepared to handle emergencies and urgent bugs in need of repair.
Professional Spotlight: Mark Himmelman, Lead Developer
What previous computer science or STEM experience(s) did you have, if any, and what prompted your journey to become a web developer?
My experience with code comes from an unexpected place: It all started when I took a job in a millwork shop as a general laborer and, after a couple weeks, our supervisor for the machine operations department abruptly quit. At the time, he was the only person who knew how to operate a certain machine which required writing code using a language called "G-code."
I spent some lunch hours learning how to write the code by using scrap pieces of wood and eventually I figured it out. I quickly became the new supervisor of that department, and it was in that role that I found my love for writing code. I ended up going back to school, where I earned a diploma for information technology, majoring in software development. While in school, I discovered that making websites is where my passion is!
ComputerScience.org is an advertising-supported site. Featured or trusted partner programs and all school search, finder, or match results are for schools that compensate us. This compensation does not influence our school rankings, resource guides, or other editorially-independent information published on this site.
Match me with a bootcamp.
Find programs with your skills, schedule, and goals in mind.
MATCH ME TO A BOOTCAMP
If you specialize in a particular subject or work in a particular industry, what prompted this choice and/or how did it evolve?
I specialize in front-end development. I made this decision because I really enjoy building things that you can see and interact with.
For whom do you think this career is a good fit? Why?
I think a role like this is great for people who have a creative mind and can apply that creativity to problem solving. As is the case with any development role, patience and willingness to learn are very important qualities to have. Eventually, writing code becomes the easy part. Troubleshooting, problem-solving, and learning how to write cleaner, more efficient code is where you will find yourself spending most of your time.
What educational path did you take to become a web developer? Did you pursue additional education at any point? What was your educational experience like?
I went to college, where I earned a diploma for information technology with a major in software development. I think the program I took was fantastic! It was a great way to learn and understand the fundamentals of how and why everything works.
What certifications or tests did you need to pass, if any, to enter the field and/or progress in your career?
I didn't really need to pass any certifications. I really just had to prove my skills and knowledge. When we were in school, we did capstone projects during our final semester which encompassed everything we learned during our time in school. That project was an excellent first addition to my portfolio!
What's a typical day like for you?
Every day, I start by checking my to-do list and I start chipping away at everything one by one. I usually start with client-requested revisions first, then move on to building brand-new websites.
What's your favorite part of being a web developer?
I love the proud feeling you get after finishing a project. No matter how big or small the project is, it always feels great to launch a website to the world wide web.
The most challenging part?
The most challenging part is the learning curve of new technologies, despite this also being one of the most exciting things in your career. It's pretty cool to learn a new framework, language, etc. and it feels great once you start to really master it, but it can definitely be challenging and sometimes very time-consuming.
What advice do you have for individuals considering becoming a web developer?
My advice would be to gain as much knowledge and experience as you can. I would highly recommend going back to school and taking some kind of course. Once you are confident enough with your skills, I would volunteer for something like a charity to build a new website or help maintain their current one. There is also open-source software that you can contribute to.
What do you wish you'd known before becoming a web developer?
I wish I knew how often I would be building on my own skills. Every day I learn something new. A new way to solve problems, a new way to render something to the browser, a new way to animate something… Working with others has really helped me a lot throughout my career.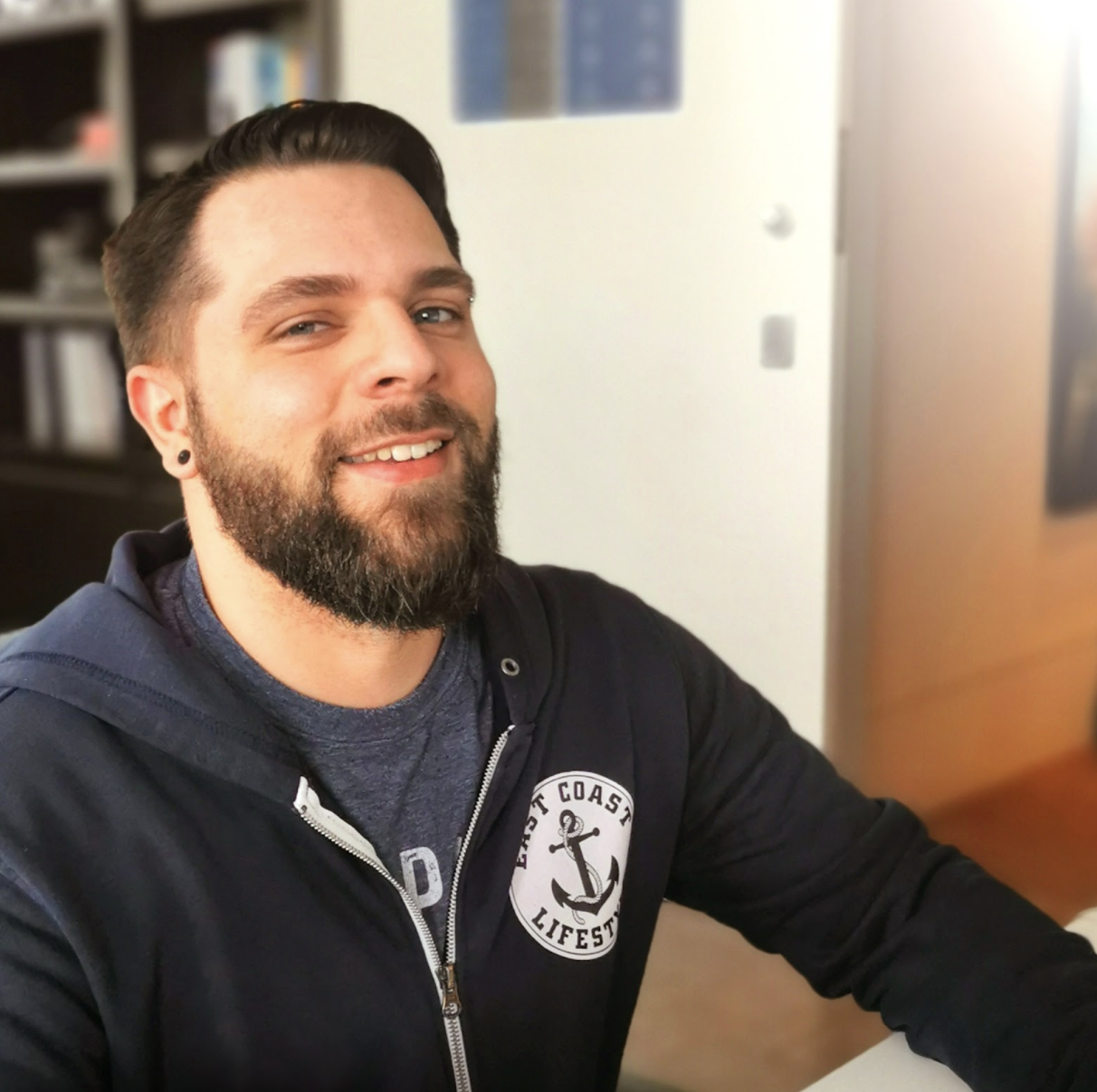 Mark Himmelman
Mark Himmelman has been with Go Top Shelf for nearly half a year as a lead developer. He works on a variety of client projects, developing and building websites for businesses and individuals. A problem-solver extraordinaire, Mark has always enjoyed building things from scratch. He spent a lot of time in his childhood building websites for fun, creating unique and funny content for each project.
Mark studied at the Southern Alberta Institute of Technology, earning an IT diploma with a major in software development. What he loves most about his job is being able to create a visual product for clients and users to engage with and enjoy. Many of his classmates made a move to data analysis or consulting, but Mark finds his joy in creating an interactive website that appeals to different audiences. His favorite part of being in a developer role is the flow of information within the community, and getting to pursue his passion.
LinkedIn or Professional Website: https://www.linkedin.com/in/mark-himmelman
Typical Work Environments for Web Developers
The web developer work environment spans multiple industries and settings. According to the BLS, the largest employers of web developers include:
Computer systems design and related services (17%)
Publishing industries, including companies who produce software, newspapers, magazines, books, and other periodicals (10%)
Self-employed workers (10%)
Management, scientific, and technical consulting services (5%)
Advertising, public relations, and related services (4%)
Geographic location plays a significant role in determining both the jobs available and how much web developers can earn. According to CompTIA research, metro areas with significant tech industry employment include New York City, Los Angeles, Seattle, Chicago, and Atlanta.
Businesses of all sizes rely on web development professionals to help expand their customer reach.
Technology professionals typically earn more in urban areas, where salaries tend to correlate with higher costs of living. While urban areas often provide a greater variety of job opportunities, web developers can enjoy a lucrative career in rural environments, too. Businesses of all sizes rely on web development professionals to help expand their customer reach.
Web developers beginning their career must first decide whether they want to work for a company or as a self-employed worker. Both options provide their own benefits and drawbacks.
Self-Employed Web Developers
Set their own hours, choose their own projects
Can work remotely from any location
Often specialize in full-stack services
Enjoy greater independence but risk irregular income
Web Developers in an Office Environment
Have set work hours and job requirements
Work in one location
Regularly attend meetings and work as part of a larger team
Typically specialize in either front- or back-end development
Enjoy greater stability and steady income
Should You Become a Web Developer?
Pros and Cons
Opportunities to specialize in front-end, back-end, or full-stack

Multiple ways to get into the field, including traditional and nontraditional education routes

Rapidly growing field with many employment opportunities

Ability to work from home as a self-employed professional
Specializing in one area may limit employment options

Can be difficult to stand out in the hiring process

Ongoing education required to keep up with the latest developments

Requires finding your own clients, risking irregular income
Web development is a rewarding, challenging career. Excellent candidates for a web development career possess creativity, excellent communication skills, and a detail-oriented analytical mindset. Problem-solvers who love technology make great web developers.
As web developers progress in their career, they may secure promotions to senior or lead developer positions. These opportunities come with advanced responsibilities and higher salaries. Senior developers often mentor junior employees and review code done by less-experienced developers.
How to Prepare for a Career as a Web Developer
There are ways to become a web developer. Some aspiring developers pursue more traditional education options, like a degree in web development. Others enroll in rigorous bootcamp programs that teach coding in just 12-24 weeks.
Regardless of the path you choose, learning to code requires hard work and long hours at the computer. Hands-on coding education can be tedious and mentally taxing, especially for those entering the field as a second career. Always ask peers or instructors for help when needed.
Some developers — especially those who work as freelancers — experience difficulty when first breaking into the field. Earning professional certifications, completing internships, and building a strong portfolio of work can impress employers and help get your foot in the door.
Learn More About Web Developers
Frequently Asked Questions About Web Developers
Is web development a stressful job?
Like any computer science professional, web developers can face stress while on the job. Stressful factors include tight deadlines; demanding clients; and the inevitability of running into unexpected bugs, errors, or design problems.
How many hours does a web developer work each week?
Most web developers work full time. This typically translates to 40 hours a week, though exact hours vary. Developers may need to work overtime to meet client or employer needs. Freelance web developers make their own schedules.
Do web developers work from home?
Many do, as web development lends itself well to remote work. According to the U.S. Bureau of Labor Statistics, 10% of web developers and digital designers work as self-employed contractors.
What does a web developer do on a daily basis?
The typical day of a web developer requires meeting with clients and/or management to discuss website needs, writing code using programming languages, testing applications and interfaces, and working with other team members to determine website layout.
Featured Image: Maskot / Maskot / Gety Images
Take the next step toward your future.
Discover programs you're interested in and take charge of your education.