ComputerScience.org is an advertising-supported site. Featured or trusted partner programs and all school search, finder, or match results are for schools that compensate us. This compensation does not influence our school rankings, resource guides, or other editorially-independent information published on this site.
Are you ready to discover your college program?
Credit: Luis Alvarez / DigitalVision / Getty Images
Computer engineers play a key role in technological advancement. These professionals design, build, maintain, and upgrade computer hardware, software, and networks. They provide innovative, practical solutions to technology and business problems. Explore in detail what a day in the life of a computer engineer looks like.
What Is a Computer Engineer?
Computer engineers apply electrical engineering and computing concepts to design, test, and maintain computer hardware, software, and networks. They work with programmers, data specialists, cybersecurity experts, and IT support services for businesses and organizations. Computer engineers need at least a bachelor's degree to get started in the field.
A branch of electrical engineering, computer engineering can trace its roots back to the first digital computer, constructed in 1937 at Iowa State University. Today, computer engineering features several subsectors, including cyber-physical systems, big data analytics, artificial intelligence, and distributed computing.
Top online programs
Explore programs of your interests with the high-quality standards and flexibility you need to take your career to the next level.
What a Computer Engineer Does
A computer engineer's key duties include designing hardware or software, testing designs, and researching new tools.
Computer engineers fall into three broad categories: hardware engineers, network engineers, and software engineers. All three kinds of computer engineers design, build, and test new technology solutions. Hardware engineers create and maintain physical products. Network engineers design and maintain systems, while software engineers create and upgrade new programs and applications.
People with a knack for science and math, along with an educational background in computer science or physics may enjoy this career. Computer engineers interface with clients, vendors, other technology specialists, and even artists and storytellers to make new computer products come to life. Professionals may work in corporate, government, or educational research institutions. They may serve in finance, healthcare, the military, and technology.
Although computer engineers are in high demand, the role is not without its challenges. Staying informed about new research and trends, bridging the gap between technology and business, plus adapting to team leadership roles can present challenges for new engineers.
Primary Duties
Designing Computer Hardware: After using engineering tools to design new computer hardware, engineers test and analyze the product. Then, they update the design to improve usability concerns. Once manufactured, these products need continuous upgrading. Sometimes engineers reconfigure current hardware rather than building a new product.
Writing Computer Software: Although many computer engineers design physical products, building computer software and applications forms the core of a software developer's job. Using programming languages such as C++ or JavaScript, engineers can develop packaged applications. Often, though, they create customized tools or databases for their employers or customers.
Creating and Testing Robots: Computer engineers may work as part of a team to develop, create, test, and manage intelligent machines or robotic systems. In this role, professionals may conduct research on robotics and robot development and work with CAD or CAM tools to build the machines.
Researching New Tools in Computer Engineering: Computer engineers need to stay up to date on new tools emerging in technology. Research is ongoing in areas such as data science, machine learning, computer security, distributed computing, and human-robot interaction. Companies use this research to develop new tools. Engineers who stay informed of new developments provide meaningful value to their companies.
Managing Teams of Engineers: Some computer engineers move from tool development to management and leadership roles. As team leaders, engineers must understand the project's details, keep an eye on overall goals, and ensure that their team stays motivated and well resourced.
Nonstandard Duties
Drone Software Engineering: Companies use drones for aerial surveillance or to take pictures for marketing and advertising. Engineers help develop the software and hardware that advances drone technology. They can serve in the commercial, consumer, or military markets.
AI Consulting: AI consultants help companies leverage artificial intelligence tools to improve business outcomes. This work might involve programming computer applications that use machine learning. However, not all AI consulting focuses on program development. Some professionals help corporate leaders understand the value of machine learning solutions and select appropriate AI-powered tools for their companies.
Video Game Development: Computer engineers can design software programs for video games. In this role, engineers work with artists, writers, and animators, providing the coding that brings their creative vision to life. Though most video games function as entertainment, some games serve as educational tools, therapeutic interventions, or even as experimental tools in blockchain finance and business.
Virtual Reality Design: Engineers use new technologies such as visualization, mapping, and 3D modeling to form immersive digital worlds. Beyond daily use in games and shopping, virtual reality plays an important role in national security, education, sports, mental health, and medical training. Companies such as Microsoft, Samsung, and Facebook invest in hiring engineers who can create new hardware to support virtual reality.
Blockchain Development: Responsible for researching, analyzing, developing, and executing blockchain applications, computer engineering professionals use programming languages to design blockchain architecture and infrastructure. Companies that see value in decentralized applications often hire engineers and programmers who can work with blockchain technology. Outside of cryptocurrency, blockchain functions in the supply chains, internet of things, and data application sectors.
ComputerScience.org is an advertising-supported site. Featured or trusted partner programs and all school search, finder, or match results are for schools that compensate us. This compensation does not influence our school rankings, resource guides, or other editorially-independent information published on this site.
Match me with a bootcamp.
Find programs with your skills, schedule, and goals in mind.
MATCH ME TO A BOOTCAMP
What Is a Typical Day for a Computer Engineer?
Most computer engineers work 40 or more hours a week. During critical phases of project development, engineers may also need to work nights or weekends.
Not every day in the life of a computer engineer is about programming and meetings. These professionals design or develop software, meet with engineering staff, design or test prototypes, and review new products for regulatory compliance.
Computer engineers also spend time completing documentation, a tedious but key component of their work. Engineering team leaders hire staff members, train new hires, and work with technicians and developers.
Industry and corporate culture determine a large part of a computer engineer's working environment. For example, tech startups eager to bring their product to market may require longer hours and less structured job roles than industry giants or government agencies.
Computer engineers who work in highly regulated industries, such as healthcare or finance, may have a different experience than those in educational or entertainment companies with less stringent regulations.
Each computer engineer's career and daily tasks are impacted by the industry, along with their company, role, education, and experience.
Professional Spotlight: Frederik Banke, Software Engineer
What previous computer science-related (or STEM) experience(s) did you have, if any, and what prompted your journey to become a computer engineer?
Ever since I sat at a computer for the first time, I felt intrigued. How was it able to do the things it did? How could I be able to command it to do what I wanted? It felt like magic. But the curiosity lasted, and I eventually discovered programming. It was quite a struggle, but little by little I managed to learn enough to write small programs. Back in 2000 when the internet was all the rage, I started creating interactive websites for friends. Among other things I created a community website for https://pc-geeks.dk/, a community that still lives today (not with my software, though).
When I entered high school I picked programming, which was on the curriculum in the senior year. I was able to create a small program to control a small LCD-display. At that point, I saw programming as an area with endless possibilities to create and learn. That was when I decided to continue with computer science at university.
If you specialize in a particular subject or work in a particular industry, what prompted this choice and/or how did it evolve?
I have two areas of specialization. One happened by accident, and the other is powered by a drive to always improve.
Since I started building websites at school, by the time I started at university I had been programming websites for six years. More or less by accident, websites were a topic I was quite proficient in. It prompted me to start my own company building websites. Owning a company that specialized in building websites gave me a unique perspective on the topics taught at university. It definitely helped a lot to be able to put everything together in real-life projects.
Ever since I started programming, I started getting into trouble. As my programs grew in size, they became too complex to manage. As I gained more experience, the size of my programs could grow larger before they became unmanageable. The topic of how to build software in a way that made programs manageable in the long run became something close to my heart. I have pursued learning more in this topic ever since.
For whom do you think this career is a good fit? Why?
Programming is a huge area with many different aspects. But the key to them all is continuous learning. To become a programmer, you need to know that programming requires learning every day. Even for people working in the industry, it never ends. The fun part of programming is problem-solving: getting a task, cracking it, and creating a good solution.
What educational path did you take to become a computer engineer? Did you pursue additional education at any point? What was your educational experience like?
I took the formal education path: studying computer science at university and gaining a master's degree in artificial intelligence.
I have also pursued different certifications in technologies I have worked with, like MySQL, Kubernetes, PHP, Azure, and others. The reason for pursuing the certifications was to have a goal to target while studying the technologies.
My pet peeve with university education is that it is very targeted towards arcademia and not industry application. But during the courses, it is not apparent at all. If I didn't have my own company allowing me to contrast the learnings with real projects, I would have had a hard time. Instead, it allowed me to focus more on the areas that were actually useful.
What certifications or tests did you need to pass, if any, to enter the field and/or progress in your career?
Except for my university degree, there haven't been any certifications that were required. The certifications I pursued have been for my own learning, and not because they enabled me to get a promotion or other benefits.
When getting a software engineer job at Santander, I did need to pass a programming/logic/math test as part of the job interview.
How did you prepare for them?
For interview questions, I practiced by doing tasks at www.hackerrank.com, which is a site with small programming challenges that are similar to what can be expected at an interview.
For certifications, I use a combination of reading books and watching videos on the subject. I try to compress the study time and the exam so I don't end up forgetting most of the information.
What were they like?
I love interview tests. The type of questions is like small puzzles, which allow me to showcase how to create a solution.
What's a typical day like for you?
I have two types of typical days: programming days and refinement days.
On programming days, I have a list of tasks — usually written as user stories explaining some change to the system.
I then put headphones on and start my integrated development environment (IDE). The first thing I do is create a test case for the feature I want to implement. When the test is written, I start writing the code to support it.
Then, I look at the solution I made and see if I can make it better. Maybe a variable could get a better name, or a method should be in another place.
I continue with this iteration until the feature is complete. If I enter a flow state, I can work for multiple hours like this without noticing.
On refinement days I meet with my team, which consists of other programmers and business people. We then discuss which new features we want to have in the system. At the end of such a meeting, we have a list of user stories that are ready to be worked on.
What's your favorite part of being a computer engineer?
Definitely problem-solving. There are few things as satisfying as creating an elegant solution to a problem.
The most challenging part?
Software is like a black box. When a customer asks for a change to make the software do something else, then I need to look into the system to understand the implications and how to do the change.
In some cases, the change is simple and could be done in five minutes. In other cases, the change is almost impossible and will require months of work to complete.
And the challenging part is that from the customer's perspective, the change requests seem quite similar. This is the most challenging part to me.
What advice do you have for individuals considering becoming a computer engineer?
Programming is a challenging area. It will seem like everyone is better than you. It will seem like they know all the details and are able to write code just like that. Don't be fooled. Even the most senior computer engineers don't know everything. We google all the time as well.
Pick up a programming tutorial, find a forum to ask questions, and stick to it. You will understand it, even if it takes time. We have all been through the process, and the more frustrated you feel, the closer you are to understanding.
What do you wish you'd known before becoming a computer engineer?
I wish I had known that there is no perfect code. For years I pursued perfection. I thought that if I just learned this technique or applied that principle then my code would be perfect. It is only after seeing a lot of code and speaking to experienced engineers that I have understood that perfection doesn't exist. We can only hope to get our code into a state where we can change it without introducing problems.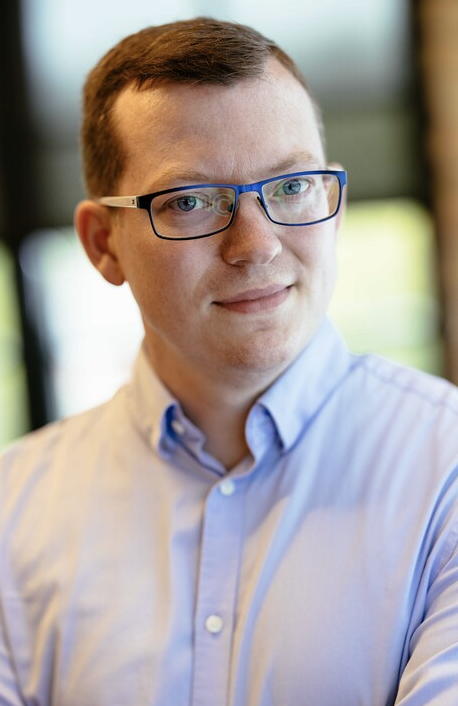 Frederik Banke
Frederik's passion is to work with programmers to refine their technical skills. He works as a Software Engineer at www.frederikbanke.com, where he coaches good programmers to become even better. He teaches how to combine processes like test-driven development with principles like clean architecture, SOLID, and DRY to make code manageable in the long run.
He learned software development skills by running his own software development company while studying computer science. The combination of working closely with customers and the connection to academia allowed him to create solutions for brands like Santander, Widex, and Thermex.
He has worked as a software engineer for more than 20 years and has used the principles to deliver software that underpins millions in revenue.
Where Computer Engineers Work
Computer engineers often work in research laboratories or offices. Some laboratories are part of a major corporation, while others belong to technology startups, research universities, or government agencies. The highest-paid computer engineers work at research and development centers or computer and peripheral equipment manufacturing firms.
According to the Bureau of Labor Statistcs, California employs more computer hardware engineers than any other state with 6.3 computer engineering roles for every 1,000 jobs in the San Jose area. Washington, however, pays higher mean salaries than California, and Colorado has the highest concentration of computer hardware engineers in the country. Some non-metro areas in Mississippi, Iowa, West Virginia, and Virginia also offer many computer engineering jobs with strong salaries.
Software engineers also enjoy strong job markets and high wages in California and Washington. However, Virginia and New York provide many well-paying jobs for these professionals, too. States with non-metro areas that offer favorable employment outlooks for software engineers include Vermont, Montana, and Wisconsin.
While urban markets like San Jose, Seattle, and New York pay the highest salaries, living in less population-dense areas may offer a slower-paced lifestyle and better work-life balance.
Major employers of computer engineers include companies such as Apple, Google, Facebook, and Microsoft. Government agencies like NASA and the U.S. Department of Defense also employ many computer engineers, along with educational and research institutions like the Johns Hopkins University of Applied Physics.
While corporations typically pay more than government agencies, computer engineers in the public sector often get to work in cyberdefense and other national security jobs.
Should You Become a Computer Engineer?
Computer engineers can pursue in-demand jobs with high-paying salaries. However, becoming one takes more than a background in science and math or an aptitude for solving problems. Computer engineers must also obtain a bachelor's degree in the field and many pursue optional industry certifications.
Since more than 75% of computer engineers are men and about 60% are white, women and members of racial minority groups may find themselves in pioneering roles in the field. In addition, some students who start out in computer engineering may love computers but discover an engineering career is not for them. Fortunately, colleges and universities offer practicums and internships to help degree-seekers find their strengths before graduation.
Computer engineering graduates often work in the technical side of the field for about 10 years before moving into management. Engineers may also advance into roles as technology sales professionals, entrepreneurs, educators, or CEOs at technical or engineering firms.
How to Prepare for the Life of a Computer Engineer
Several different paths can lead to a career as a computer engineer. Many people choose to earn a bachelor's degree or a master's degree in the field. A bachelor's degree takes about four years and requires a background in physics, math, and chemistry. Applicants for a master's degree need an undergraduate degree in a related discipline.
Aspiring computer engineers who already hold a degree in another field may choose to complete a certificate or pursue training through a computer science bootcamp. These programs require a smaller investment of time and money than a traditional academic degree.
In addition to classroom training, students may pursue certification in computer science. Private organizations set certification requirements, which usually include hours of training, years of experience, and passing a standardized test.
Learn More About Computer Engineers
Frequently Asked Questions About Computer Engineers
What are the typical work conditions for computer engineering professionals?
Most computer engineering professionals work standard 40-hour weeks in offices or research laboratories. They may be required to work overtime to complete a project.
Is the work life of a computer engineer hard?
In general, computer engineers enjoy a satisfying work-life balance. Work life and culture depends on the company, their direct supervisor, their role, and which phase of the project they are working on.
Do computer engineers sit at a desk all day?
While most engineers invest a lot of time into crafting their designs, some work outside the office. They may teach, conduct field research, or manage a team, which requires them to be on their feet or in a lab.
Are computer engineers happy?
Many people find it rewarding to solve complex challenges for a competitive salary. A 2018 survey by Machine Design found that 87% of computer engineers ranked themselves as satisfied, very satisfied, or highly satisfied with their profession.
Featured Image: Luis Alvarez / DigitalVision / Getty Images
Take the next step toward your future.
Discover programs you're interested in and take charge of your education.