ComputerScience.org is an advertising-supported site. Featured or trusted partner programs and all school search, finder, or match results are for schools that compensate us. This compensation does not influence our school rankings, resource guides, or other editorially-independent information published on this site.
Are you ready to discover your college program?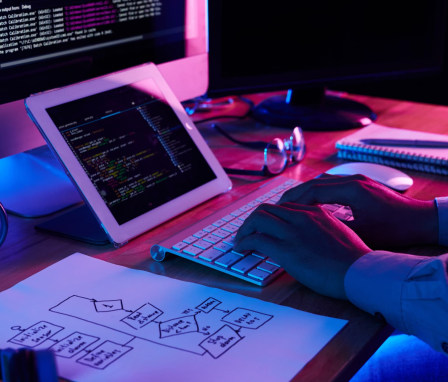 Credit: Saqib alii / iStock / Getty Images Plus
Full-stack developers create and manage the client-facing and server sides of websites and applications. Understanding the "full stack" requires a broad skill set and high-level knowledge of how front-end and back-end development work together, communicate, and connect.
This page explains what to expect from a day in the life of a full-stack developer. We explain what full-stack developers do, where they work, and their key job responsibilities.
What Is a Full-Stack Developer?
Traditionally, programmers specialized in server-side or client-side development. In contrast, full-stack developers build and design websites and applications by handling both front-end and back-end programming.
The front end is what users see when visiting websites or using applications, including content and design choices. The back end includes the technical code, databases, and servers, which are usually hidden from the website user.
Full-stack developers often work on team-based projects with other developers, user experience designers, and IT professionals. Many full-stack developers are self-employed, while others maintain full-time employment with companies in computer systems design, publishing, and management.
Potential paths to a full-stack developer job include earning a bachelor's degree in web development or computer science, completing a full-stack bootcamp, and gaining professional certifications.
What Does a Full-Stack Developer Do?
Full-stack developers use computer programming languages to create websites and applications. They participate in the entire lifecycle of the software development process. These generalists hold broad, high-level expertise in front-end and back-end development.
Creative, tech-savvy people with excellent communication and problem-solving skills can thrive in this role. Full-stack developers' day-to-day challenges may include meeting high expectations from employers — some projects require specialized technical skills that not all full-stack developers hold.
Below, we describe some typical key duties for full-stack developers.
Full-Stack Developer Responsibilities
Front-End Development: Full-stack developer work includes front-end development, which affects the physical appearance of websites and applications. This work requires expertise in technologies such as JavaScript, HTML, and CSS. These professionals use frameworks and libraries like Angular and jQuery.
Back-End Development: Full-stack developers need back-end development skills, including familiarity with programming languages like Java, Python, and Ruby. Back-end development relates to everything that the typical user does not see behind the scenes, which may include security and database-related work.
Assess User Needs and the User Experience: This responsibility requires basic knowledge of basic UX and UI design concepts. Full-stack developers help determine the most user-friendly and effective ways to organize websites and applications.
Project Management: Many full-stack developers oversee software development projects from beginning to end. This level of oversight requires excellent project management skills and the ability to understand each level of the process.
Learn New Coding Languages: Full-stack developers must constantly keep track of new technologies, including teaching themselves new coding languages and remaining up-to-date on existing practices. Without refreshing their knowledge and skills, these professionals can quickly become less qualified for the most competitive full-stack developer jobs.
A Typical Day for a Full-Stack Developer
---
Can you describe a typical day at work?
My workday starts around 10 am as I open up Slack to catch up on what happened while I was asleep — since our company operates 24/7 across time zones — and finish my breakfast. I attend a virtual standup via video about an hour later to sync up with my Clipboard Health teammates about our goals for the day. These daily meetings are common in the industry, and they're especially important at a remote company.
After standup, there's a large amount of variability in what happens next. Some days, I'll get into a flow state and write code for several hours straight. On other days, I do mostly "support work," helping others debug code issues, coordinating future plans in Slack conversations and video meetings, and contributing to written documentation.
It really just depends on what the most pressing task is to keep my current project moving forward. After a full day of coding and/or support work, I wrap up between 5 pm and 7 pm, depending on how much there is to do and what my evening plans are.
Is there a lot of collaboration in your role, or do you mostly work independently?
Yes. One of my favorite parts of this job is that I have plenty of opportunities to collaborate and plenty of opportunities to work independently. I really love engaging with code directly, and I relish the times when I can really immerse myself in a task and start thinking in JavaScript rather than English.
Most of the work I do to support collaboration is still independent, as I typically express my thoughts via asynchronous communication like project plans and emails. All of that being said, software engineering (like all forms of engineering) really is a team sport, and I almost never create anything that is solely "mine."
Every line of code is the result of collaboration from the planning phase all the way through code review. I find this sort of work does a good job of satisfying both the need to collaborate and the need to be independent.
Do you work in an office, from home, or in a hybrid environment?
Clipboard Health is permanently remote, so I enjoy the flexibility to work from home or wherever I choose. Being fully remote carries its own challenges, especially in terms of communication, but we were remote even before 2020, and everyone is either already excellent at expressing themselves in writing or rapidly getting better at it. It's also amazing as an introvert to be able to fully relax during downtime or when doing independent work.
What professional skills do you find yourself using most in your day-to-day work?
I think my most relevant professional abilities are my communication skills. My success at most tasks, including writing code, comes down to how well I can formulate my thoughts into cohesive writing. Engineers sometimes get a reputation for being poor communicators, and I've met some great engineers who don't always excel at explaining their ideas to other people.
But software engineering is communication. You're just communicating with a computer rather than a person. I always strive to be better at communicating with computers and with people — the people I look up to the most at my company are invariably masters of either or both disciplines.
What is the best part of your job? The most challenging part?
The best part of my job is definitely mentorship. I love the learning process, and one of the best ways to engage with it is to help others learn. To get even more specific, the best part is code review because it provides an opportunity to collaborate with someone on a great piece of code.
Every disagreement we have is an opportunity for me to learn why the author chose a certain approach and for them to learn why I might have gone with a different one. Regardless of whose approach we choose, we both get to become better programmers.
The most challenging part of my job is owning mistakes. In my first few years on the job, I've made a lot of mistakes, from small things like pushing buggy code to big things like mixing up my priorities. It can be incredibly difficult to accept those failings, but it's also the only way to improve. I'm fortunate to have the support of thoughtful managers at Clipboard Health who make accepting and learning from my mistakes as painless as possible.
David Horstman
David Horstman is a software engineer at Clipboard Health, where he specializes in building web applications. After earning degrees in Biochemistry from UCSD and Columbia, he received training pertinent to his current position at the Bloom Institute of Technology. His approach to tackling problems is heavily influenced by his background in research science, and he loves applying his passion for seeking out simple answers to help create elegant, modular solutions to complex technological problems. Despite leaving academia to become an engineer, he continues to spend most of his time helping others to improve their skills and supporting the exchange of ideas between engineers both within and across teams. David is also an accomplished singer with a passion for musical theater and a strong connection to nature from his home state of California. He currently lives in Brooklyn, New York, and enjoys getting absolutely everywhere via bike.
Where Do Full-Stack Developers Work?
States that employ the most web developers include California, Washington, and New York. Many web developers also work in Texas and Florida. These states host large cities and metropolitan areas, vibrant tech industries, and strong economies. Metropolitan areas usually offer more job opportunities in full-stack development than rural sectors.
However, many full-stack developers can work anywhere. Self-employed and freelance professionals commonly work from home offices, and the increase in remote work after 2020 may result in even more full-stack developers working from home.
Major industries employing these professionals include computer systems design and related services; advertising and public relations; publishing; and management, scientific, and technical consulting services. Work environment and location can affect job duties, pay, and area of specialization.
Common Questions About Full-Stack Developer Jobs
---
What does a full-stack developer do day to day?
A day in the life of a full-stack developer varies by position, industry, and employer. Typical duties may include writing front-end and back-end code, fixing coding bugs, and meeting with clients.
Is a full-stack developer job stressful?
Like other tech jobs, full-stack developer work can sometimes be stressful. Some developers get anxious about solving problems in the development process. Working under the pressure of a tight deadline can also create stress.
Do full-stack developers work from home?
Like many other tech jobs, full-stack development lends itself to remote work. Depending on their company, many full-stack developers can work from home. Freelance and self-employed full-stack developers may be more likely to work remotely.
What skills do full-stack developers need?
Full-stack developers need expertise in front-end and back-end programming languages. This may include JavaScript, CSS, HTML, and Ruby on Rails. Other important skills include creativity, communication, teamwork, and problem-solving.
ComputerScience.org is an advertising-supported site. Featured or trusted partner programs and all school search, finder, or match results are for schools that compensate us. This compensation does not influence our school rankings, resource guides, or other editorially-independent information published on this site.
Match me with a bootcamp.
Find programs with your skills, schedule, and goals in mind.
MATCH ME TO A BOOTCAMP
Take the next step toward your future.
Discover programs you're interested in and take charge of your education.