Are you ready to discover your college program?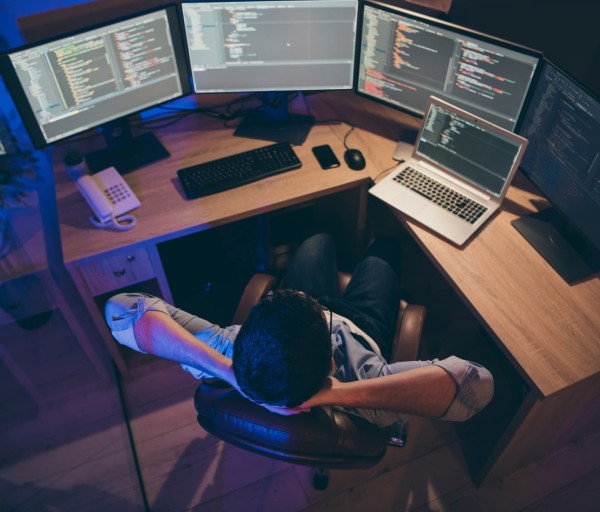 Credit: Deagreez / iStock / Getty Images Plus
Full-stack developers work on the front and back ends of websites and applications. This wide-ranging work requires broad knowledge and a versatile skill set compared to specializing in one type of development.
The average full-stack developer salary significantly exceeds the median annual wage for all workers of $41,950. Factors that can affect your salary include level of education, experience, and location. This guide explores what you can earn as a full-stack developer, depending on location, experience, and education.
What Does a Full-Stack Developer Do?
Rather than specializing in client-side or server-side development, these developers work on the "full stack." Their broad knowledge and skills give them a high-level understanding of the entire development process.
Full-stack developers often create small applications and websites on their own. For larger projects, they interact with UX designers, front-end developers, back-end developers, and other IT professionals.
Full-stack developers use all the coding languages that back-end and front-end developers use, including JavaScript, HTML, Ruby, and Python. They need to be able to "zoom out" on the development process and make sure everything works properly.
As generalists, full-stack developers may have a limited understanding of specialized aspects of front-end and back-end development.
How Much Can You Earn as a Full-Stack Developer?
Factors influencing full-stack developer salary prospects include education, experience, and specialization. Location and industry can also affect earnings for full-stack developers.
The BLS does not collect separate data for full-stack developers but reports that web developers and digital designers made a median annual salary of $77,200 in 2020. This figure is significantly higher than the median salary for all occupations.
Median Annual Salary of Web Developers and Digital Designers, 2020
Source: Bureau of Labor Statistics (BLS)
Full-Stack Developer Salary by Experience
The average full-stack developer salary increases substantially and steadily with experience. The salary range for this occupation starts at around $66,000 for entry-level workers with less than one year of experience and continues to shift over time. Developers progressively make more money as they advance within the profession.
By the time full-stack developers gain 20 years of experience, they make an average of about $102,000.
Full-Stack Developer Salary by Education
Completing more formal education is another way to potentially increase your full-stack developer salary. Colleges do not typically offer degrees specifically in full-stack development. Full-stack developers often earn degrees in web development, which encompasses full-stack development.
Earning a computer science or information science degree can result in higher pay than completing a web design or web development program. However, these programs offer a broader education than may be necessary for many full-stack developer roles.
Students who complete full-stack bootcamps can master specialized, career-relevant skills without the time and investment required for traditional college degrees.
Note: the following table reflects fewer than 50 respondents for each degree type.
Discover which education path is right for you:
Full-Stack Developer Salary by Location
Location can affect a full-stack developer's salary. Some cities and states offer better compensation for this occupation than others. Factors that can alter salaries by location include cost of living, quality of life, and regional demand for this job.
Relocating may offer the best job and salary potential. However, the increase in remote work during the pandemic means that, in many cases, employees can apply for jobs at distant companies without moving. Some companies adjust salaries based on cost of living.
The tables below highlight top-paying cities and states for full-stack developers and web developers.
Top-Paying Cities for Full-Stack Developers

| State | Average Annual Wage | Percent Above the National Average |
| --- | --- | --- |
| San Francisco, California | $103,230 | 30% |
| Boston, Massachusetts | $96,910 | 22% |
| New York, New York | $92,460 | 16% |
| Austin, Texas | $90,520 | 14% |
| Seattle, Washington | $90,640 | 14% |
Source: Payscale, June 2022
Top-Paying States for Web Developers

| State | Number of Web Developers Employed | Annual Mean Wage |
| --- | --- | --- |
| | 16,220 | $133,790 |
| | 22,020 | $94,960 |
| | 3,600 | $93,590 |
| | 5,130 | $91,480 |
| | 4,010 | $90,710 |
Source:
BLS
Career Outlook for Full-Stack Developers
Companies appreciate the broad and versatile skill set of full-stack developers. Some businesses may hire one full-stack developer instead of both a back-end developer and a front-end developer. Demand for this career is increasing. The BLS projects faster-than-average growth for web developers from 2020-2030.
Continued expansion of e-commerce and growth in mobile device use may positively affect a full-stack developer's employability in the coming years. Potential outsourcing of more developer jobs to other countries could have a negative effect on the career outlook in the U.S.
Employment Outlook for Web Developers, 2020-2030
13% projected increase
Source: BLS
Best Locations for Full-Stack Developers
Some locations employ more full-stack developers than others. Web developers applying for jobs in places that employ large numbers of people in this field may find more and better opportunities than individuals pursuing roles in areas that employ few web developers.
Factors that contribute to locations that employ larger numbers of full-stack developers than others may include a stronger economy, higher population density, and the presence of more tech companies. The pandemic substantially increased the number of companies allowing employees to work from home, which may affect employment growth in some locations.
Top-Employing States for Web Developers

| Top-Employing States | Number of Full-Stack Developers Employed | Annual Mean Wage |
| --- | --- | --- |
| California | 22,020 | $94,960 |
| Washington | 16,220 | $133,790 |
| New York | 12,950 | $84,110 |
| Texas | 9,830 | $76,480 |
| Florida | 7,310 | $67,810 |
Source:
BLS
States With the Greatest Projected Increase in Employment for Web Developers

| State | Percent Projected Change, 2018-28 | Average Annual Openings |
| --- | --- | --- |
| Utah | 35.5% | 230 |
| Washington | 28.1% | 2,630 |
| Colorado | 26.2% | 350 |
| Nevada | 24.1% | 90 |
| Texas | 20.9% | 1,030 |
Source:
Projections Central
Growth Opportunities for Full-Stack Developers
A full-stack developer's role can expand with experience and time in the occupation. Advancements for full-stack developers may include project manager or other computer systems manager roles. Most of these roles require a bachelor's degree, but some employers may accept candidates with significant on-the-job experience.
Other ways that full-stack developers can improve their prospects for career advancement include earning relevant professional certifications or completing bootcamps.
Full-Stack Developer Salary and Outlook Questions
---
What is the average salary for a full-stack developer?
PayScale reported an average full-stack developer salary of $79,610 as of June 2022.
Do full-stack developers get paid more than front- or back-end developers?
The average salary of a full-stack developer is slightly higher than the average front-end developer salary. However, back-end developers earn more, with Payscale reporting an average annual salary of $87,010 as of June 2022.
Are full-stack developers in high demand?
Yes. LinkedIn reports that full-stack developers rank among the top emerging jobs in the U.S., with a 35% growth in hiring each year between 2015 and 2020.
Which industries hire full-stack developers?
Top industries that employ full-stack developers include computer software, financial services, and information technology and services. Higher education and internet-related companies also hire many full-stack developers.
Take the next step toward your future.
Discover programs you're interested in and take charge of your education.