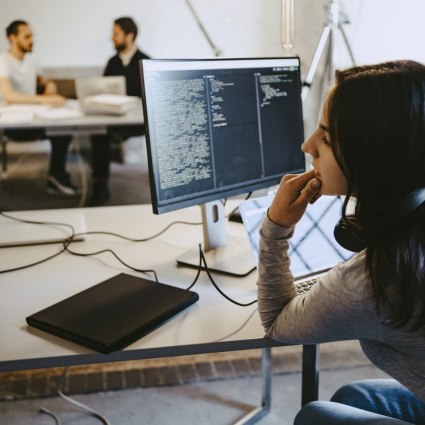 Are you ready to find a school that's aligned with your interests?
Computer programmers are responsible for bringing software design and apps to life. Coding languages like C++ and Java ensure that programs follow instructions to carry out specific tasks and produce expected results.
An online master's in computer programming can help prepare learners for in-demand jobs like computer programmer, software developer, and systems analyst. The Bureau of Labor Statistics (BLS) projects a 13% growth in positions for computer programmers between 2020-2030.
Computer science and software engineering programs typically focus on programming skills. Depending on the school, students also learn computer engineering, information technology, and management information systems master's programs.
This page highlights some of the best online master's in computer programming degrees for 2022. Our list includes detailed information on application materials, tuition rates, specialization options, and graduation requirements.
What Else Should I Know About a Master's in Computer Programming?
Master's program length varies among schools. Full-time learners can complete online master's computer programming degrees in 1.5-2 years. Part-time students may need 2-6 years to complete a master's.
What can you do with a master's in programming?
Graduates with a computer programming degree can pursue jobs in computer systems design and related services. They may also seek professional practice positions as database developers, computer programmers, and software developers.
How much does a computer programmer make?
As of May 2020, the BLS reports that the median annual wage of computer programmers is $91,250. The top 10% of earners in these positions earned yearly salaries over $146,050.
Yes, these programs may be challenging. The top online master's in computer programming schools often accept those with computer science bachelor's degrees or previous experience in computer programming subjects. This helps ensure that incoming students are prepared to study advanced computer programming concepts.
Top Online Programs
Explore programs of your interests with the high-quality standards and flexibility you need to take your career to the next level.
Top Five Master's in Computer Programming Programs 2022
We chose the following accredited computer programming online master's programs based on information from reliable, unbiased sources. We use data from the Integrated Postsecondary Education Data System (IPEDS), including schools' tuition rates, degree conferral rates, and faculty and staff employment. We also account for institutions' prestige, flexibility, and affordability in our rankings. Read on to learn more about the programs we selected as the best online master's computer programming schools for 2022.
Featured Image: Maskot / Maskot / Getty Images
Take the next step toward your future.
Discover programs you're interested in and take charge of your education.