ComputerScience.org is an advertising-supported site. Featured or trusted partner programs and all school search, finder, or match results are for schools that compensate us. This compensation does not influence our school rankings, resource guides, or other editorially-independent information published on this site.
Are you ready to discover your college program?
Credit: Shannon Fagan / The Image Bank / Getty Images
A computer engineer fuses electrical engineering and computer science to develop new technology. Computer engineers design, build, and maintain hardware in modern computers.
These engineers focus on integrating hardware and software in a unified system safely and efficiently. According to CompTIA, computer engineers, cybersecurity professionals, and systems analysts make up the second-largest category of tech jobs.
Along with personal devices, computer engineers have a hand in creating robotics, networks, and other computer-based systems. This role tends to include a high amount of research and development, testing, and quality assurance. Computer engineering might appeal to problem-solvers and technology enthusiasts.
Computer engineers work within a team along with software developers and other tech professionals. The field requires strong foundations in science and mathematics, and most employees have earned a related bachelor's degree. Certifications in software, programming languages, or hardware systems can lead to additional job opportunities.
Below, you can learn more about computer engineering, including potential jobs, necessary skills, education, and helpful resources.
History of Computer Engineers
Computer engineering started as a specialization of electrical engineering before developing into a new discipline. As initially defined, computer engineering applied aspects of digital logic design from computer science to the design of microprocessors and technological systems.
As the field grew, computer engineering continued to adopt design fundamentals and theories from computer science. Computer engineering is distinct from computer science because it focuses on hardware and computer design.
Case Western Reserve University offered the first accredited computer engineering program in the U.S. in 1971. As of 2022, more than 4,361 computer engineering programs in the country hold accreditation from the Accreditation Board for Engineering and Technology (ABET).
Top Online Programs
Explore programs of your interests with the high-quality standards and flexibility you need to take your career to the next level.
Similar Specializations and Career Paths for Computer Engineers
Computer engineering forms the major foundation of all technology, so engineers may pursue a wide array of specializations within the field. Computer hardware engineers accounted for 76,900 computer engineering positions in 2021, according to the Bureau of Labor Statistics (BLS).
Computer engineering professionals gain access to high-paying roles. According to the BLS, computer hardware engineers earn a median annual salary of $128,170. Additional education and experience can lead to lucrative managerial roles. The BLS reports a median wage of $159,010 per year for information systems managers.
Computer engineers may need to pursue different concentrations or additional education to prepare for some specialized jobs. For example, a computer engineering program alone might not cover the advanced theories of aerodynamics necessary for computer engineering jobs in aerospace.
| Career Title | Description | Required Education | Required Experience | Median Annual Salary (2021) |
| --- | --- | --- | --- | --- |
| Network Architects | Network architects specialize in the communication networks side of computer engineering. These systems can include local area networks, company-wide networks, and cloud computing. | Bachelor's degree | 5-10 years | $120,520 |
| Software Developers | Software developers focus on the programming side of computer science to create applications and programs. | Bachelor's degree | 0-5 years | $109,020 |
| Computer and Information Research Scientists | Research scientists develop new technologies or methods in computer science. They focus on creating cutting-edge technologies and novel solutions. | Master's degree | 0-5 years | $131,490 |
| Computer and Information Systems Managers | Systems managers use their extensive experience to lead tech-based teams or oversee an entire system. These managers may go on to head tech departments. | Bachelor's degree | 5-15 years depending on the position | $159,010 |
Source: BLS
What Is a Computer Engineer's Job Description?
Computer engineers create and test hardware such as motherboards, routers, circuits, and other equipment. While a programmer focuses on the software side of computer systems, computer engineers specialize in the physical components of a computer. Computer engineers work in tandem with software developers to make sure any updates function as expected.
Computer engineers often research new technology and methods in the field to create innovative products and solutions. This role can involve heavy amounts of testing and experimenting with new designs during the development process. After creating a successful design, computer engineers may supervise the manufacturing process.
Companies rely on computer engineers to create modern processors and networking hardware. Any tech companies that produce hardware need qualified computer engineers to make cutting-edge products and stay ahead of the competition.
In a competitive market, employers will look for computer engineers with the essential skills listed below.
Key Soft Skills for Computer Engineers
Communication Skills: Computer engineers must work closely with other team members, including software engineers. They may also work with non-technical departments and employers when discussing project goals. An engineer must also clearly state design aspects and instructions to ensure the manufacturing process goes smoothly.
Analytical Skills: An engineer must test their design multiple times to achieve a desired result. These professionals need to locate local issues in a larger system by testing, recording data, and analyzing the results.
Problem-solving Skills: After analyzing flaws in the system, engineers need to find alternative ways of achieving the initial design goal or task. These employees may need to balance performance with the price or availability of resources while developing a project.
Critical Thinking: When testing and altering a product design, engineers need to account for other factors affected by each change. Creating a successful design may require engineers to develop new techniques or look for solutions outside their standard field.
Key Hard Skills for Computer Engineers
Microprocessors and Circuitry: Computer engineers must master the study of microprocessors and circuitry since those components make up the foundation of computers. Engineers cannot create electronics without understanding how to generate electric currents and transfer information on a physical level.
Quality Assurance and Testing: Tech engineers rigorously test hardware designs and systems to ensure everything works correctly. A solid foundation in this skill allows engineers to prioritize major functions such as cybersecurity while finding workarounds for minor issues.
Digital Signal Processing: Computer engineers develop systems that allow data to be sent via wireless communications. Digital signals create the basis of modern data storage and the internet, including speech and video processing.
Operating Systems: A computer engineer needs extensive knowledge of major operating systems, like Windows, ReactOS, MacOS, and Linux, since the job often involves incorporating hardware with software.
A Day in the Life of a Computer Engineer
A computer engineer may work on project-based deadlines with a team. They often hold meetings to talk about a project's status, any potential issues, and upcoming deadlines. During the development process, an engineer can build, test, and modify prototypes frequently.
The role's additional tasks depend on a worker's specializations and chosen sector. To learn more about the daily life of computer engineers, check out the link below.
ComputerScience.org is an advertising-supported site. Featured or trusted partner programs and all school search, finder, or match results are for schools that compensate us. This compensation does not influence our school rankings, resource guides, or other editorially-independent information published on this site.
Match me with a bootcamp.
Find programs with your skills, schedule, and goals in mind.
MATCH ME TO A BOOTCAMP
Computer Engineer Salary and Career Outlook
The continued growth of the technology sector as a whole may indicate job security for computer engineering professionals. The BLS projects a 15% increase in jobs for computer and information technology positions from 2021-2031.
However, the potential growth during the same period for computer hardware engineers is lower than average, at a 5% projected increase in roles.
The BLS reports computer hardware engineers earn a lucrative annual median pay of $128,170. Pay for these positions varies depending on the sector; those working in computer systems design make an average annual salary of $128,440, while engineers in computer and peripheral equipment manufacturing earn an average wage of $142,160 per year.
How to Become a Computer Engineer
Computer engineering requires an advanced understanding of mathematics, science, computers, and engineering. As a result, many employers consider only applicants with a bachelor's degree for entry-level jobs, according to the BLS.
Other forms of continued education may help you find computer engineering roles. Certifications and camps provide in-depth studies of programming languages, systems, or hardware that can line up with your desired role. For example, an engineer hoping to specialize in servers can take IBM i and MacOS Server courses to learn about the technologies widely used in server development.
If you're wondering how to become a computer engineer, check out one of our guides:
Professional Organizations for Computer Engineers
Established in 1947, the ACM forms the largest education and science society in the world. Members can access thousands of online educational materials and stay ahead of industry trends with various newsletters.
The IEEE forms a global community dedicated to improving the lives of people through technology. Members can advertise and collaborate on projects or pursue other opportunities through its extensive network and job board.
AWC promotes diversity in the field by supporting women in computer science. This organization provides networking, recognition, education, and mentoring opportunities through its many local chapters. AWC also bestows the Ada Lovelace Award to women who have made outstanding achievements in the field.
Originating in 1937, ASIS&T provides a platform for computer engineering professionals to discuss issues and policies related to the field. Membership provides access to the Journal of the Association for Information Science and Technology, a highly regarded scholastic journal in the field.
Learn More About Computer Engineering
Questions About Computer Engineering Jobs
What does a computer engineer do?
Computer engineers design, build, and test hardware components and systems. A computer engineer works with software developers to ensure the hardware and software work in tandem while balancing factors such as performance and material cost.
Why is computer engineering a good career?
Computer engineering offers interesting, vital roles developing new and cutting-edge technology, a necessity in modern society. This role can appeal to those who enjoy solving puzzles or creating something new. The field boasts lucrative salaries and career growth opportunities.
How much does a computer engineer make?
According to 2021 BLS data, computer engineers make a median annual salary of $128,170. The pay may vary depending on the sector and experience level.
Are computer engineering jobs in demand?
Existing data shows conflicting results. The BLS projects a marginal job outlook increase of 5% in computer hardware engineering positions from 2021-3031. However, the BLS also projects an overall 15% increase in tech industry jobs. Computer engineering jobs remain essential to creating new technology.
Reviewed by: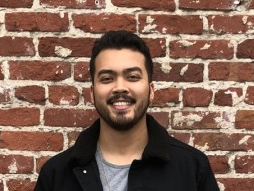 Darnell Kenebrew
Darnell Kenebrew is a first-generation graduate from San Francisco State University's class of 2020. He graduated with a bachelor's in computer science, which helped him kick off a career in tech and pursue roles within data and engineering.
Currently, he's a data analytics engineer at Meta and an executive captain for COOP Careers — a nonprofit for overcoming underemployment. Kenebrew strongly believes in giving people a chance and that everyone should have an equal opportunity within the job market. He believes that COOP Careers helps this equality materialize.
Kenebrew is passionate about how the industry is shaped with data and how data can be leveraged in many aspects of business decisions to meet goals. In addition, he's passionate about inclusion, community, education, and using data for good. He hopes that he can pivot business decisions to make a positive, meaningful impact and that his work will positively impact end-users, as well as meet business goals.
Darnell Kenebrew is a paid member of the Red Ventures Education Integrity Network.
Page last reviewedSep 26, 2022
Take the next step toward your future.
Discover programs you're interested in and take charge of your education.