ComputerScience.org is an advertising-supported site. Featured or trusted partner programs and all school search, finder, or match results are for schools that compensate us. This compensation does not influence our school rankings, resource guides, or other editorially-independent information published on this site.
Are you ready to discover your college program?
Credit: Maskot / DigitalVision / Getty Images
Software engineers and developers work on computer applications and programs. These professionals identify problems by running extensive tests. They then correct the issues and build new programs. Now is a lucrative time to start a software engineering career.
The Bureau of Labor Statistics (BLS) projects a 25% growth for software developer positions from 2021-2031. This projected growth rate is much higher than the national average projection for all occupations. The BLS projects 162,900 annual openings for software developers, testers, and quality assurance analysts over the next decade.
The page explores a software engineer's typical day. We unpack the qualifications for computer science jobs and look at where software engineers work.
What Is a Software Engineer?
Software engineers create web applications, mobile apps, robots, operating systems, and network systems. They develop software solutions that meet their companies' needs and expectations. Note that the terms "software engineer" and "software developer" are used interchangeably in the industry, but these positions' responsibilities vary slightly.
Software engineers design software solutions, while software developers build those solutions to make them ready for consumers. Depending on the type of company they work for, software engineers will create original code for software and applications. They also build reusable code for future use.
What a Software Engineer Does
A standard day for a software engineer involves a lot of coding. These professionals rarely spend their day sitting at a desk fixing technical issues. At any given moment, a software engineer is managing several software projects, developing new code, and collaborating with coworkers to solve problems.
Software engineers also spend time revising and rewriting other people's code as needed. Building prototypes for clients is another common task. This entails understanding client expectations and developing prototypes accordingly.
Software engineers do not always work independently. They collaborate with project managers, UI or UX designers, data scientists, and other team members. They also attend meetings and manage emails.
Software engineers enjoy solving problems. They pay close attention to detail, since a small error can cause a program to collapse.
Main Duties of Software Engineers
System Design: System design involves defining the outline for web applications and products efficiently and clearly. These designs provide information and data in the coding framework for the software developer to make the product.
Establish New Documentation: All new technology requires documentation for people to understand its functionality. This might look like creating or updating products and supporting documentation. The software engineer writes this supporting documentation.
Maintain Software Functionality: Software engineers maintain existing software and create new software. This includes making updates to align with the latest industry and company standards, troubleshooting problems, and brainstorming future improvements. Maintenance is equally as important as writing new code.
Troubleshoot and Upgrade Existing Systems: Along with maintaining existing systems, software engineers also troubleshoot problems when they arise. Both internal company systems and clients may need help solving problems. Software engineers also make updates as needed to ensure existing systems remain usable.
Comply with Company and Industry Standards: Technology is a rapidly changing field. Products and systems must keep up with these changes. Software engineers usually oversee these updates. They must match industry trends and ensure their systems align with industry standards.
Nonstandard Duties for Software Engineers
Work with Clients: Many software engineers do not work directly with clients. However, working at a small company or startup can change this dynamic. If a software developer leads a project, they might regularly consult with the client to ensure the final product meets their expectations.
Manage Internal Teams and Projects: Software engineers might manage internal teams and projects depending on the company and their roles. Experienced software engineers in a senior-level role at the company typically oversee teams.
Interview and Hire for New Positions: If a new hire is being interviewed for their team, software engineers might speak with the job candidate to ensure a good fit. The final selection to fill roles usually falls on upper management. Still, a software engineer's feedback is taken into consideration.
Collaborate with Front-end Developers: Software engineers do not usually handle front-end development, but they might partner with front-end developers on some projects. In some cases, the front-end developer needs feedback from the software engineer to ensure they create a great product.
Build Software with Code: A software engineer writes the code and creates the framework then a software developer executes the build. However, depending on the company and job description, software engineers might create new software with the developer.
Top Online Programs
Explore programs of your interests with the high-quality standards and flexibility you need to take your career to the next level.
A Software Engineer's Typical Day
A software engineer's typical day begins either in the office or at home, if they work remotely. Each engineer is different. Their routine usually depends on their employer and personal work preferences. However, a typical day for a software engineer might look something like this:
Software engineers start their day by working on their coding projects. Ideally, engineers set aside time every day to enter a "mental flow" state, which allows them to focus on solving problems and developing reliable solutions.
Software engineers may attend meetings interspersed throughout the day. The afternoon might involve reviewing emails and checking in with colleagues on shared projects. Engineers often meet with peers to ask questions or work through a project's challenging aspect before returning to their desk for more independent work.
Reviewing and revising code is a good habit of software engineers. This task can occur in the afternoon before they wrap up their day. Software engineers conclude their workday between 5 and 6 p.m.
Professional Spotlight: Sergii Zhuravel, Lead Software Engineer
What previous computer science-related (or STEM) experience(s) did you have, if any, and what prompted your journey to become a software engineer?
When I was learning applied mathematics and system analysis at university, I liked programming courses very much. After my graduation, I had a proposition to stay in the university as a teacher, but I decided to become a software engineer.
If you specialize in a particular subject or work in a particular industry, what prompted this choice and/or how did it evolve?
At first I started as a web developer, as it was very popular. But later, I also learned mobile development. I like everything in IT, so I usually learn what is required right now on the project and don't specialize in something particular.
For whom do you think this career is a good fit? Why?
I think everyone can become a software engineer. But of course, there are some skills or human traits that can make the learning process much easier and adoption to the profession much smoother. I think it's good if one has good memory, for example, likes learning new stuff and can spend tons of time with a computer.
ComputerScience.org is an advertising-supported site. Featured or trusted partner programs and all school search, finder, or match results are for schools that compensate us. This compensation does not influence our school rankings, resource guides, or other editorially-independent information published on this site.
Match me with a bootcamp.
Find programs with your skills, schedule, and goals in mind.
MATCH ME TO A BOOTCAMP
What educational path did you take to become a software engineer? Did you pursue additional education at any point? What was your educational experience like?
I got a master's degree in applied mathematics, and this helped me to understand logic and programming easier. It took about five or six years for me. After that, I also spent 2-3 months learning Java myself, before I got my first job as a programmer. Today, there are a lot of different courses and bootcamps that can prepare a new developer in a few months, maximum in one year, I think. But I think that if possible, it's better to get a decent education to have a good base in CS.
What certifications or tests did you need to pass, if any, to enter the field and/or progress in your career?
I had no certifications and didn't pass any tests when I got my first IT job. But during my career, I often take some courses and pass exams and tests. For example, right now I'm preparing for the AWS exam to get an AWS developer associate certificate.
How did you prepare for them?
There are a lot of online courses on the internet. So, usually I prepare by taking some courses and reading books, then I practice a lot.
What were they like?
For example, I took a Scrum Master online course one time. I passed the course. I read a lot of additional materials (like the official scrum guide that is available on the internet). Then I passed simple tests during the course, and I got a certificate.
What's a typical day like for you?
In our company, we use Scrum (it's very popular these days), so usually we start our day from the daily meeting. In the daily meeting, we discuss what we did yesterday, what we plan to do today, and do we have any issues/blockers or not.
Then if I have some tasks in the tracking system, I work on the task or I pick a new one. I can communicate with the product owner or with a QA if I have any questions about requirements or if I have some ideas for improvements for the feature I'm working on.
When the feature is coded, I also work on the tests (unit tests mostly) because we try to have good test coverage.
When the feature is ready, I publish it using Git to our repository (we use GitLab), and CI/CD tests the changes and publishes them to a Dev or QA environment, where our QA can test the feature or fix. If there is feedback from the QA that something doesn't work or works not as expected, I investigate the issue and fix it.
Some days we have grooming sessions where we review existing tickets with features or bugs to better understand what we need to do and to be on the same page with all the team.
What's your favorite part of being a software engineer?
I think it's a possibility to create something new every day. When you write the code, it's like writing a poem. I mean that it's a creation process and is very close to the art. And of course, it's a "superpower" to solve problems. As a software engineer, you have a lot of tools that allow you to resolve a lot of different (and usually quite complex) problems, like sending starships to Mars.
The most challenging part?
I think for most people, it's to keep motivated. Because a lot of times when we dream about complex problems, at work we can be asked just to program another form or spreadsheet. For me personally, I think the most challenging part is to keep the right balance between work and personal life. Working with the computer can take you fully and eat all your time.
What advice do you have for individuals considering becoming a software engineer?
Today is the best time to become a software engineer. If you really like this, jump into it. It's a cool profession that will give you a real superpower to solve complex problems. Who knows, maybe you will have the world.
What do you wish you'd known before becoming a software engineer?
If I knew that React would be so popular, I would invent it myself. I think nothing could change my desire to become a software engineer. But maybe it would be cool to know in advance what technologies (libraries, frameworks) will be popular in the future. That's why I think there are a lot of articles on the Internet about "the frameworks of the future" that try to predict what next libraries and frameworks will be built and will be popular.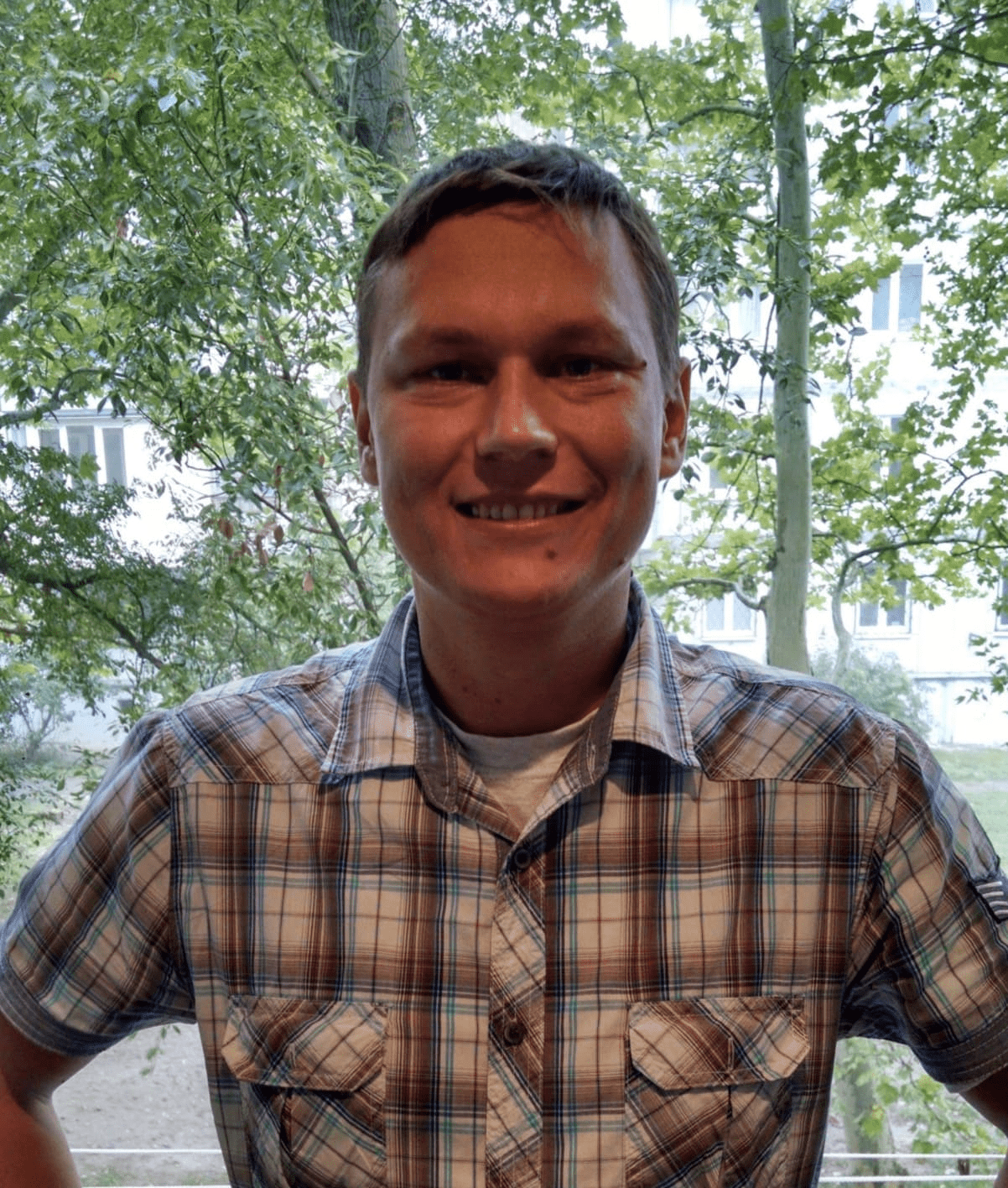 Sergii Zhuravel
Sergii is a lead software engineer. He holds a master's degree in applied mathematics and more than 10 years of experience in IT. Sergii has worked with different back-end and front-end technologies. Now, he works mostly with the front end (for example, with React and Redux), which he enjoys a lot. He likes to share his knowledge, so he conducts programming courses (JavaScript), writes articles, and participates in different events, like hackathons.
Where Software Engineers Work
Software engineers find work at large corporations and startups or as freelancers. They can work at a standard tech company or in finance, software publishing, or manufacturing. Each of these industries requires software engineers, but most jobs are in computer systems design.
Location is another factor for software engineers to consider. Software engineers can expect to find more lucrative job opportunities in large cities. According to the BLS, California has the highest number of software developer positions in the country, with 228,240 workers employed. Texas and Washington follow in second and third place.
Most software developers work in Silicon Valley in California, earning a average annual salary of $146,770. Only Washington, mainly the Seattle area, pays their software developers a comparable wage ($ 145,150 annually on average).
The BLS also reports that over 450,000 software developers work in computer systems design. The next highest industry is software publishing, with 133,340 workers. Each company has a unique culture that affects how software engineers work. These engineers might work independently with flexible hours or stay heavily involved in decisions with regular meetings.
Top Online Programs
Explore programs of your interests with the high-quality standards and flexibility you need to take your career to the next level.
Should You Become a Software Engineer?
Software engineers remain in high demand. Computer science majors can usually pursue jobs after graduation without a problem. Computer engineers typically possess excellent problem-solving skills. They think analytically and approach problems strategically to find the best solutions possible.
Software engineers implement new strategies to discover creative ways of executing their tasks. Technology is an industry that moves fast and software engineers must also keep up with the latest coding requirements.
In many environments, engineers complete coding independently. Software engineers must find motivation and take initiative to accomplish tasks. They should stay patient and focused while writing code.
How to Prepare for a Career as a Software Engineer
Preparation for a software engineer career starts as early as high school. Students can take computer science classes or coding bootcamps to begin developing their skills before they start college.
Most software engineers earn their college degrees in computer science or software engineering from an accredited college. However, some might complete a software engineering certification program or bootcamp to learn the necessary skills.
While in college, students should complete internships. This helps build connections with professionals in the industry and provides students with real-world coding experience. Those who opt to take a certification course or bootcamp learn the basics of coding for less time than earning a degree.
Learn More About Software Engineers
Frequently Asked Questions About Software Engineers
What is a typical day for a software engineer?
Software engineers spend their day solving problems in web applications and programs, writing code, attending meetings, and collaborating with their peers. They usually work on several projects at once.
What is life like as a software engineer?
Software engineers spend much of their time finding solutions. They try to improve products by paying close attention to detail and making small adjustments that have a large impact.
Is being a software engineer fun?
Those who like technology, solving complex problems, and working with their peers may enjoy working as software engineers. Depending on the company, software engineers might have flexible work hours or work remotely.
Do software engineers have flexible hours?
This depends on where they work. Large corporations, startups, and small companies might set different expectations for their software engineers.
Take the next step toward your future.
Discover programs you're interested in and take charge of your education.