ComputerScience.org is an advertising-supported site. Featured or trusted partner programs and all school search, finder, or match results are for schools that compensate us. This compensation does not influence our school rankings, resource guides, or other editorially-independent information published on this site.
Are you ready to discover your college program?
Credit: gorodenkoff / iStock / Getty Images Plus
Candidates can follow multiple paths to become information technology architects. Many aspiring IT architects earn bachelor's or master's degrees. Some pursue certifications as a supplement or alternative to degree-based qualifications.
This career guide defines the IT architect role and answers the question of how to become an information technology architect. It explores multiple avenues to the profession, along with career development and job search tips.
What Is an Information Technology Architect?
Information technology architects design organizational network infrastructure. They assess client needs and requirements, develop solutions, and supervise network implementation, maintenance, and upgrades.
The IT architect role has several alternate job titles, including network architect and network engineer. Information technology architects mainly work in office settings. Some hold permanent positions with single employers, while others work for IT firms, providing services to many clients on a contract basis.
Individuals wondering how to become information technology architects should know that the role is a senior position. Most IT architects have multiple years of experience in lower-level IT and network technician roles. The insights from previous experience inform their efforts to design efficient, high-functioning, and complex systems for enterprises and large organizations.
Education Requirements for Information Technology Architects
Individuals considering becoming information technology architects should recognize that there are no hard and fast educational requirements. However, the credentialing process generally follows one of two paths.
The first path covers degree-based education. According to a Zippia analysis, about 68% of working IT architects hold a bachelor's degree in computer science or information technology. Nearly 18% hold a master's degree in one of those subject areas or a closely related equivalent.
Still, some information technology architects hold no degree at all. Instead, they graduated into the role through professional experience. These workers often built their IT knowledge base through self-teaching, computer science bootcamps, or mentorship.
By working in entry-level roles, they can gradually expand their skill sets while rising through the IT ranks. IT architects who do not have degrees generally hold one or more recognized professional certifications. Many IT and computer science certifications are skills-based and do not require candidates to hold academic credentials.
Each employer sets specific policies for qualifications. Some prefer or require degrees, while others prioritize skills and job performance over formal credentials.
Experience Requirements for Information Technology Architects
Professional experience requirements vary among employers and may depend on your educational background and academic credentials.
As a general rule of thumb, candidates with bachelor's or master's degrees need approximately 3-5 years of professional experience to qualify for IT architect roles. Individuals following non-degree paths may need up to 10 years of experience.
Certain types of experience can help guide your professional development. Examples include:
Computer systems design and management
IT architects design custom solutions for their employers and clients. A working knowledge of general business operations and management may also help.
Certifications for Information Technology Architects
Some IT architects earn professional certifications instead of degrees. Others use certifications as supplements to their undergraduate or graduate academic credentials.
As with other aspects of the IT architect career path, there are no firm requirements regarding certification. However, certifications hold significant value as they validate your skill set — especially if you do not hold a computer science or IT degree.
Independent organizations offer IT architect certifications. To earn these credentials, candidates must pass rigorous examinations that test advanced bodies of technical knowledge.
Renewing a certification typically includes continuing education or ongoing professional development. These timelines vary among providers but generally span 2-5 years.
Examples of IT architect certifications include:
IASA Global: IASA Global offers multiple certified IT architect (CITA) certification programs for professionals at various stages of their careers. Options include entry-level foundation credentials, along with associate, CITA-specialist, and CITA-professional programs.
The Open Group: This vendor-neutral group offers enterprise architect certifications at the foundation and practitioner levels. It also features a business architect foundation certification program.
Cisco also operates a Certified Architect program, but as of 2022, it no longer accepts applications from new candidates.
How Do I Become an Information Technology Architect?
Candidates can follow paths relating to experience or education to become information technology architects.
After completing education requirements for an information technology architect and gaining professional experience and certification, the process can take up to 10 years. Completing a bachelor's degree takes about four years, while master's programs will add 1-2 years to the timeline. Then, factor in the 3-5 years of experience employers generally prefer or require.
The experience-based path has a similar timeframe but differs in its focus. With this path, candidates acquire entry-level skill sets, land their first IT jobs, then build increasingly advanced abilities. Professionals following this path can develop the knowledge required to pass IT architect certification exams on the job.
Steps to Becoming an Information Technology Architect
The Degree-Based Path
Hone Your Technology Skills. It can help to build some basic to intermediate technical skills through self-teaching and practice before starting your degree. Entering your program with a sound knowledge base may boost your academic performance.
Complete Your Degree. If you opt to go the formal education route, academic requirements for information technology architects generally include a bachelor's degree. Upgrading to a master's degree helps you hone advanced skills and may boost your employability.
Consider an Internship. Field learning opportunities allow students to apply their skills in professional settings. These programs also offer strong job leads.
Gain IT Experience. After graduation, search for entry-level IT technical positions. Acquire knowledge of networking systems, IT infrastructure, information security, virtualization, and cloud computing.
Get Certified. Recognized professional certifications validate your skill set to potential employers. Consider earning these optional credentials.
The Experience-Based Path
Identify a Skills Development Path. Alternative ways to gain the knowledge required to become an information technology architect include self-teaching, certificate programs, and mentorship. Begin by plotting your professional development course, which can include more than one of these options.
Consider Bootcamp Education. Bootcamps teach practical, job-ready skills on compact schedules. Many bootcamps also connect students to entry-level professional opportunities.
Land an IT Job. Build your portfolio and network your way into an entry-level IT position.
Build Advanced Skills. Advance your IT design, development, and maintenance skills through targeted on-the-job training. Seek out mentorship opportunities with senior IT staff members.
Develop Business Knowledge. IT architects benefit from a practical working knowledge of business operations. Familiarity with business helps architects design solutions customized to each client's specific needs.
Earn a Certification. Certifications are more important if you do not hold a computer science or IT degree.
Should I Learn How to Be an Information Technology Architect?
The IT architect role tends to attract technology professionals with its senior-level profile and high pay rates. Payscale data from November 2022 cites $122,780 per year as the average U.S. information technology architect salary.
Information technology architects primarily deal with technical duties. Their work can also affect how businesses run. Some candidates with strong technical orientations may find it challenging to expand their focus to include knowledge of business operations.
Successful IT architects can climb the ladder into multiple higher-level roles. These potentially include senior information technology management and executive roles with major corporations.
Information technology architects work at the crossroads of IT and business operations, and employers value professionals with this dual focus. If you have strong technical skills and an interest in technology and business, you may be a good candidate for the role.
Professional Spotlight:
Mithun Tonse, Director of Architecture, Liberty Mutual Insurance
What prompted your journey to become an information technology architect?
I have always been passionate about addressing complex business problems/opportunities by leveraging technology and, more importantly for me, collaborating with people.
Early on in my career, I was working to solve these problems at a localized level. When a position for an information technology architect opened, I saw it as an opportunity to positively influence at a larger scale and further develop my skills.
If you work in a particular industry, what prompted this choice and how did it evolve?
I got my first break in the insurance industry as a software developer. I have continued to grow my career in this industry for nearly 19 years because of the opportunity to learn new things every day. Insurance is a complex yet fascinating business.
Technology is continuously revolutionizing this industry. The interplay of data and disruptive technology like AI, cloud computing, blockchain, etc., is revolutionizing the field of insurance. There is truly never a dull day in the world of insurance.
What educational path did you take to become an IT architect?
I completed my bachelor's in computer engineering from University of Mumbai in 2002 and then quickly started my professional career in IT that same year. In 2015, I completed my master's in computer information systems from Boston University. These two degrees really helped prepare me for the IT architect role, which I took on in 2016.
"The interplay of data and disruptive technology like AI, cloud computing, blockchain, etc., is revolutionizing the field of insurance. There is truly never a dull day in the world of insurance."
—Mithun Tonse, Director of Architecture, Liberty Mutual Insurance
Being an IT architect stretches beyond technology. It's also about working effectively with individuals and teams, coaching and mentoring, planning, strategizing, and visioning for the long term. This was the reason I enrolled in an MBA program from the University of New Hampshire: to help me understand varied subjects like organizational behavior, strategy, financial accounting, and economics, all of which have been helpful in my day-to-day job as an architect.
What helped me immensely in my educational pursuit is the support that I got from Liberty Mutual and my family, which enabled me to pursue two master's degrees while working full-time.
Did you have to pass any certifications or tests to enter the field or progress in your career?
In my early days as a software engineer, I got certified in Oracle and Java, as those were the technologies that were being used at the time.
I am currently working on Amazon Web Services' architect certification. While these certifications aren't a requirement to get into the field, they are helpful for gaining exposure to concepts and technologies that are continuously evolving.
What advice do you have for individuals considering becoming an IT architect?
Invest your time equally in improving and developing:
Your technology skill sets,
Your soft skills (active listening, empathy, ability to collaborate, and team leading/motivation)
Your business knowledge, based on the domain that you are in
Confidence and assertiveness
When you are an architect, senior leaders rely on your input for strategy formulation and execution. From my experience, architects who truly scale the peak of their profession excel in the four dimensions above.
What do you wish you'd known before becoming an information technology architect?
One skill that's important for any architect to master is prioritizing their own time and energy. There will be demands on you from multiple angles. You will need to learn what to focus on, what to delegate, and what is plainly not important.
This is something that I struggled with myself when I started the journey. I have made improvements over years but it is a continuous journey.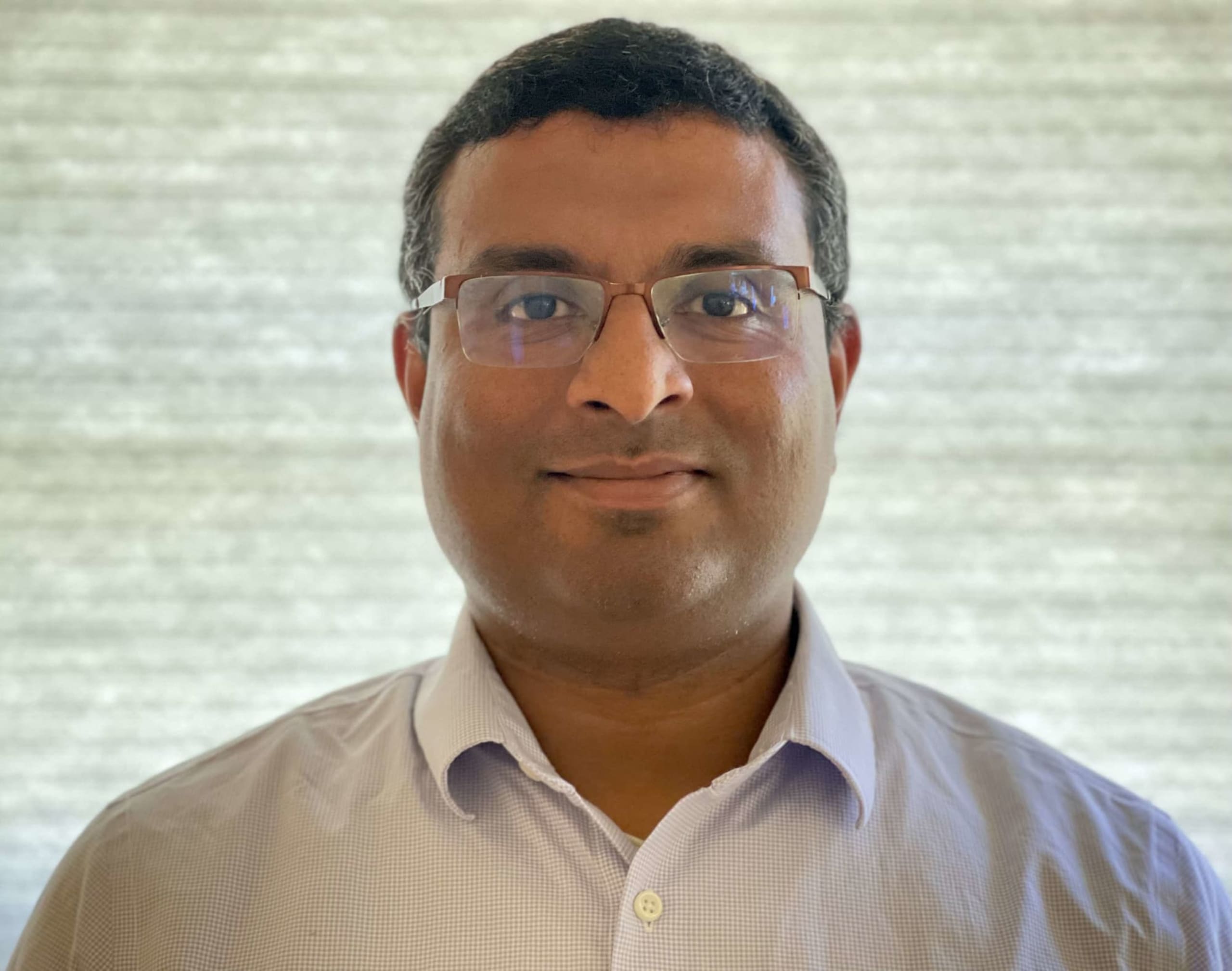 Mithun Tonse
Mithun Tonse is a director of architecture at Fortune 100 insurer Liberty Mutual Insurance. A lifelong learner, he received his bachelor's in computer engineering from University of Mumbai, India, has a master's in computer information systems from Boston University, and received an MBA from the University of New Hampshire.
With more than 20 years of experience in architecting and building enterprise-scale software solutions, Mithun's passion is rooted in solving complex business problems by working collaboratively with technology and business teams.
His professional journey has taken him from a software engineer to a senior architect and now to director of architecture. It's through that day-to-day, hands-on experience that prepared Mithun for the director of architecture role, where he leads a team of engineers and architects.
The Job Hunt
Acquiring the necessary skills to become an information technology architect is only part of the journey. Aspiring professionals need to start by landing their first IT architect positions.
Previous employers may promote you to the IT architect role if you qualify. You can also source job leads by talking to mentors, networking, and participating in conferences, summits, and professional organizations.
Also, individuals wondering how to be computer information architects can consider these job boards and career websites:
Explore Degree Programs in Information Technology
FAQ About How to Be a Computer Information Technology Architect
How do I become an information technology architect?
In learning to be an information technology architect, consider the two main paths into the profession. First, you can obtain a bachelor's or master's degree in computer science or information technology, then land an IT job and build experience. You can also advance through on-the-job training if you have the necessary skills but lack a degree.
What are the minimum requirements for becoming an IT architect?
There are no firm minimum education requirements for computer information architects. However, most hold bachelor's degrees in computer science, and many IT architects have master's degrees.
Can I work in information technology architecture without experience?
The information technology architect role is a senior position that typically requires about five years of lower-level experience. Entry-level professionals can work in the field but usually start in junior and supporting roles.
Is it hard to find a job as a computer IT architect?
Businesses of all sizes need technology and IT professionals with advanced skills. However, the specific nature of the IT architect role generally limits availability. The U.S. Bureau of Labor Statistics projects a 4% growth in the profession from 2021-2031, which is about the average pace for all occupations.
---
Page last reviewed Nov 8, 2022
View hand-picked degree programs
Tell us what you'd like to specialize in, and discover which schools offer a degree program that can help you make an impact on the world.