ComputerScience.org is an advertising-supported site. Featured or trusted partner programs and all school search, finder, or match results are for schools that compensate us. This compensation does not influence our school rankings, resource guides, or other editorially-independent information published on this site.
Are you ready to discover your college program?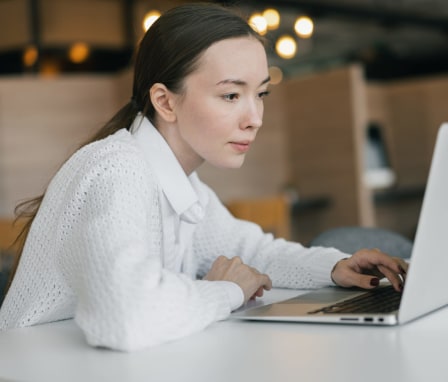 Credit: chanuth / iStock / Getty Images Plus
The tech industry is booming, a trend unlikely to slow down soon. The Bureau of Labor Statistics (BLS) projects that the number of tech jobs will grow twice as fast as other jobs from 2021 to 2031.
Many high-profile tech companies employ coding bootcamp graduates. According to 2021 data from Career Karma, employers like Amazon, Google, and Facebook were among the top employers of bootcamp graduates.
Coding bootcamps cover in-demand skills like CSS, JavaScript, and HTML. A bonus for learners like Maria Lazaro — a first-generation college graduate and bootcamp student — is that bootcamps often feature lower tuition and quicker timeframes than traditional degrees.
We spoke with Lazaro to get her perspective on completing a full-stack bootcamp program, including why she chose her program and what advice she has for others considering a bootcamp.
Can You Become a Web Developer Without a Degree?
The educational requirements for web developers vary from a high school diploma or GED certificate to a degree, reports the BLS.
Student Contributor
Lazaro is a paid member of the Red Ventures Education freelance Student Network.
University/School: Springboard Online Bootcamp

Area of study: Software Engineering
A coding bootcamp offers short-term, intensive training in computer science skills, such as software or web development. Some learners choose to pursue a bootcamp instead of a degree in the field. Others, like Lazaro, enroll in a bootcamp after graduating from a college or university.
Although her bachelor's was in sociology and not computer science, Lazaro believes that her degree helped her better navigate her bootcamp program. In fact, she credits her experience as a college student for making her comfortable in asking questions and managing her time.
In Lazaro's opinion, having a degree is not integral to a student's success in a bootcamp. "It really comes down to the person," she says, adding that a degree in a related field could help you move through the intensive bootcamp coursework a bit easier.
While bootcamps vary, the curriculums typically cover programming languages and frameworks, web design and development, cybersecurity, and data science. Learners spend anywhere from a few weeks to months in a bootcamp program.
For instance, Springboard — the bootcamp Lazaro attended — is an online full-stack coding program focusing on JavaScript and Python development. The bootcamp lasts nine months, requiring 20-25 hours per week. The flexible program allows learners to study at their own pace.
For Lazaro, that means planning her time wisely. She says her studying schedule follows "as close to what a normal work day would be like because I don't want to get out of the habit of having structure in my day."
The career readiness tools and services many bootcamps provide are additional reasons a person may choose a bootcamp over traditional college programs.
Lazaro mentions that Springboard sets up mock interviews to help prepare students, complete with feedback for improvement. Other career services include resume revamping, network building, and mentorship throughout the job application process.
First-Hand Advice on Which Bootcamp to Choose
When choosing a bootcamp, it's important to consider the program's curriculum, cost, and timeframe. Many bootcamps target particular tech skills, like data science or web development.
How in-depth a program goes into each topic can influence the length of a bootcamp. On average, a full-time bootcamp lasts 12-16 weeks, but some extend up to one year.
Cost, Payment Options, and ROI
A 2019 RTI Press report lists $13,500 as the median cost of a full-time bootcamp. The median weekly cost students can expect to pay is about $1,050.
When comparing the bootcamp costs, be sure to check part-time tuition rates. Some bootcamps offer full-time and part-time formats with the same tuition, giving part-time learners a longer period to pay for it.
Additionally, bootcamps typically offer payment options to help make tuition more affordable. For example, some programs allow monthly payment installments. Others may defer tuition until graduates secure a job in their desired field. Be sure to read the fine print carefully before agreeing to any payment or tuition deferment plan.
Lazaro took time to research bootcamps before choosing one. What helped her to make her final decision was her program's six-month job guarantee. Typically, students must qualify for job guarantees, which promise that graduates will find a job within a certain time period or they get their money back. Be sure to closely review the job guarantee's terms and conditions.
Although many coding bootcamps offer these guarantees to help graduates find jobs quickly after graduating, "This one had a much shorter timeframe for promising a job, as well as additional support for getting you that job," says Lazaro. "Others offered 9-12 months — much, much longer than I wanted to be out of work," she explains.
Diversity, Equity, and Inclusion
How well a program practices inclusivity is another priority some students may consider when selecting a bootcamp. Does a program have accessible content for learners needing accommodations? Does it create a level playing field for students of all races and educational backgrounds?
Lazaro adds another point to consider regarding the lack of representation of women in tech:
"I attend a lot of "women in tech" conferences and meetings. I feel like women are underrepresented [in the tech industry]. They're just not there. So I seek opportunities to see what women are doing in the industry, especially in leadership [positions]."
Only 27% of women work in computational and mathematical occupations despite making up 47% of the workforce, according to the BLS. People of color also lack representation in the industry. Black and Latino/a or Hispanic workers make up just 8% and 9% of these jobs, respectively, reports the BLS.
Some coding bootcamps actively recruit women into their programs. For example, Hackbright Academy and Grace Hopper Fullstack Academy empower women, non-binary people, and their allies to join their programs. Others, like Code2040, offer programs for Black and Latino/a people to break into the industry.
Space to Explore and Pivot
Consider a bootcamp covering broader computer science skills if you're new to the tech industry or unsure which career path is right for you.
"The pivoting moment for me was when we started working with databases and planning out the whole application…That was so exciting for me," explains Lazaro.
When Lazaro first began her bootcamp journey, she was intrigued by websites' user experience and interface. Initially, she felt confident pursuing front-end programming. However, during her full-stack program, she was surprised to learn how much more she enjoyed learning about the back end of websites, specifically data and systems:
"The pivoting moment for me was when we started working with databases and planning out the whole application…That was so exciting for me," explains Lazaro. "Working with the APIs [application programming interfaces] really made me think, 'This is where I am happy,'" she shares.
The hands-on projects that Lazaro completed during the program helped her discover what a back-end development career would look like. Based on her experience, she encourages prospective students to consider a full-stack bootcamp to get an accurate picture of the entire development process and gain new interests along the way.
Ongoing Mentorship and Career Support
Career support throughout a bootcamp program is crucial. The best programs guide their students beyond courses by offering networking opportunities, mentorships, and job search assistance.
If there's one improvement Lazaro would make to her program, it would be to have more time with her mentor:
"A few [students] have gone through the bootcamp, and then they go into the industry [to work] and come back as a mentor…which is nice because they know firsthand what you're going through," she explains.
Ask an enrollment counselor for specific information about a program's mentorship services and how often students can access them.
Lazaro says that researching bootcamps on her list helped her learn specific program data, like graduation rates and post-graduate job acquisition rates. However, contacting the bootcamps directly to answer her questions ultimately brought her to her top choice.
Valuable Lessons on Learning to Code
While Lazaro has a degree in another field, she says that a coding bootcamp fits her learning style best because it focuses on the topics she really wants to learn. The "bootcamp gave me hands-on experience with projects and [offered me] something tangible," she says.
Lazaro also admits that online learning — especially in such an intensive program — might not be the best fit for everyone. "You don't have a live person with you to ask questions of or to clarify certain points," she explains.
Many full-stack bootcamps also require a significant time commitment from their students. Lazaro notes that bootcamp students working full time may find it challenging to strike a balance between the two.
Lazaro says that her bootcamp curriculum is structured. Each section builds on skills in a previous section, with each module including projects with deadlines. Therefore, she learned to keep a steady pace and seek help when overwhelmed by a concept or her workload.
Yet, the program offers some flexibility for students: "I have seen students take different sections at different times and still complete the program. And that's fine because some people come in with Python experience or a different coding experience altogether," says Lazaro.
Speaking of the other students in her bootcamp, Lazaro appreciated the program's diverse group of learners: "Some people come in after 15 years of teaching. Some people come in from the music industry. Some people come from machine learning," she says.
Regardless of their different backgrounds, her classmates support one another and work well together. "It opens you up to more people than you would have otherwise come across on a day-to-day basis," explains Lazaro.
Preparing for Graduation and a Career in Tech
At the time of our interview, Lazaro was preparing to graduate from her bootcamp. At the end of her program, she must complete a capstone project and an extensive interview process, complete with mock interviews and feedback. Then, she moves on to the career portion — six months of resume overhauls, networking, and career preparation.
Although she is nervous about all the work that goes into finishing the program, Lazaro is equally excited to finish: "I was ready at month five," she quips. "I'm so ready to get out there."
As for preparing for her future career, Lazaro says that she attends conferences and meetings designed for women in the industry. "I seek opportunities to see what women are doing in the industry, especially in leadership [positions]," she says.
Joining professional organizations can also be a good idea for bootcamp students to extend their networks and get a jumpstart on professional development before graduation. The IEEE Computer Society, the Association for Women in Computing, and the International Web Association are a few top organizations for web developers.
Key Insights for New Bootcamp Students
Throughout her time in a full-stack bootcamp, Lazaro has learned a lot about herself and her future career path. Here are a few insights from Lazaro as she transitions from student to graduate:
On Sticking With It: If she could offer advice to anyone considering a bootcamp, Lazaro suggests, "Don't quit. You can easily quit, but you're doing yourself a disservice…It's okay to fail. It's okay to keep trying," Lazaro says.
During the first part of her program, the intense learning curve challenged Lazaro's desire to continue. Ultimately, she did, and she is grateful for the experience. "I stuck with it, and it's opening doors for me at this time," she says.
On Asking for Help: Lazaro said her bootcamp community of peers and mentors got her through many challenging moments. She encourages students to really lean into the support services bootcamps provide:
"Stuff like this is not easy. It's not going to always come naturally, and that's okay," she says. "It's part of learning. You have to seek out resources. That is something I definitely learned."
"Don't quit. You can easily quit, but you're doing yourself a disservice…It's okay to fail. It's okay to keep trying," Lazaro says.
On Pivoting: Welcoming new challenges and concepts can be an excellent way to ensure that your goals align with your interests. When she began her program, Lazaro had no intention of veering away from front-end development. Now, she admits, "That's the least exciting for me."
Lazaro is glad she had an open mind about diving into back-end development: "I didn't know I was going to like the back end, so it was worth doing a full-stack bootcamp…" she explains. Ultimately, her adaptability led to her discovering her passion.
More Resources for Future Bootcamp Students
Take the next step toward your future.
Discover programs you're interested in and take charge of your education.